Just Launched! Fernleaf Collection At Wayfair
Wayfair just launched its new Fernleaf collection and you're going to love it! Fernleaf is a new rural-inspired collection that effortlessly transforms the modern home into a cosy and tranquil haven. Fernleaf combines simplistic silhouettes with natural materials and intricate prints for a unique, artisanal style.
This one-of-a-kind assortment spans a range of homewares from Outdoor, Bedroom & Dining Furniture, to organic textiles and ceramics to decorative accents and more. The collection will also be launching at the perfect time for customers to revamp their outdoors into a snug, transitional space ready for warmer months.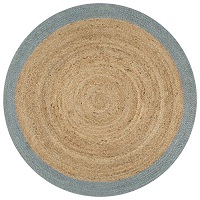 Huntingdon Hand Braided Beige Rug
Ideal for rustic-inspired interiors, this area rug brings a cosy touch of texture to the home. It is handmade from 100% braided jute, making it a hard-wearing choice for a family home. Its natural jute colouring is contrasted by a coloured band around the edge.
Price £89.99
Shop Now > Wayfair
Need more inspiration? Visit Wayfair
This post contains references to products from one or more of our advertisers. We may receive compensation when you click on links to those products.