Bring A Sense Of Fun and Personality To Your Home
Bring a sense of fun and personality to your space with Graham and Green home accessories. Invite a warm glow into your home with candle holders, adorn your walls with stylish wall mirrors and bring the outside indoors with earthware planters.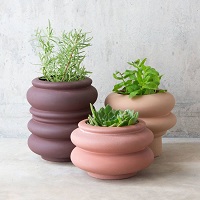 Curved Earthenware Planters
A collection textured terracotta pots with sculptural organic-shaped designs, perfect for housing faux flowers or small potted plants.
Price £32.00 – £55.00
Shop Now > Graham and Green
This post contains references to products from one or more of our advertisers. We may receive compensation when you click on links to those products.