Children's bedrooms can often be left in a time warp – refresh your child's bedroom with the latest children's bedroom trends from Argos
It's not unusual for children's bedrooms to be the last place to receive a style update. Kids grow so fast, and their needs and interests change rapidly too. Before you know it, the cute and gender specific bedroom you created, when these styles were all the rage, are now dated.
What surrounds you, inspires you
Children want to have fun, and have a functional, interesting space to call their own, just as much as adults do.  So if you want your child to read, surround them with books and places to keep their books. If you have a budding engineer, let them have a versatile space which they can change themselves. A budding adventurer in the family, bring the world to them and let them explore. The world is full of intrigue from forests, to oceans, and now in the age of space exploration, you are no longer limited to this world only.
Let the adventure begin at home, in the coolest children's bedroom ever. Argos has some fantastic products to help you update your children's bedroom.
Unicorn is a bright and bold trend for kids that love to show their little personalities and who love to get lost in their imagination. The unicorn theme can be found on bedding, curtains, lamp shades, lighting and wall art. Use unicorn accessories or accents such as storage boxes, or jewellery cases.
Shop the Unicorn trend > Argos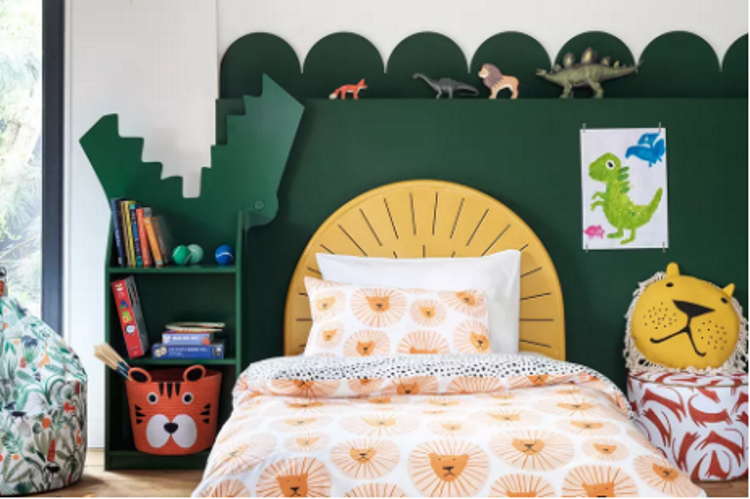 Trips to the zoo are often a highlight for kids. Let the fun and awe continue by bringing the thrill of wildlife to their bedroom. Designed to inspire imaginations and unlock inquisitive minds, this wildlife-inspired look is bursting with life and adventure.
Shop the Into the Wild trend > Argos
Ocean Fantasy will stimulate the imagination as well as create a calming interior for your child's bedroom. With prints full of ocean creatures, including sharks and jellyfish, there are so many stories which you can make up and tell.
Shop the Ocean Fantasy trend > Argos
Bright and invigorating, the Pop Trend will energise your child's bedroom. With block colours and bold patterns, the energetic Pop collection is brimming with pieces that both kids and kids-at-heart will enjoy.
Shop the Pop Trend > Argos
Latest offers
Easter Gifts
Ends 19 April 2022
Shop Now > Argos
Save up to a 1/3 on selected baby & toddler products
Ends 10 April 2022
Shop Now > Argos
Save 10% on selected Hotpoint and Indesit Freestanding Cookers 
Code: COOK10
Ends 29 March 2022
Shop Now > Argos
Great Deals on Fitness
Ends 18 December 2022
Shop Now > Argos
Getting the Garden Ready at Argos
Ends 5 April 2022
Shop Now > Argos
Save 20% on Garden Furniture and Spas
Code: GARDEN20
Ends 29 March 2022
Shop Now > Argos
Save 10% on selected LG TVs
Ends 29 March 2022
Shop Now > Argos
Save up to 1/3 on selected Furniture
Ends 5 April 2022
Shop Now > Argos
This post contains references to products from one or more of our advertisers. We may receive compensation when you click on links to those products.