Ready for an Egg-cellent Easter?
Easter is one of those special occasions where most families make an effort to get together and so deserves special presentation. Celebrating Easter at home is a typical way to enjoy the holiday. This is both fun, but can also be challenging to accommodate extra guests for dinner, or for overnight stays. You also would probably want to show your home off at its best, or go all out with new Easter decorations and decor.
However, you choose to celebrate the occasion, Argos can help you get into the Easter spirit. Choose from beautiful dining and tableware to enhance your Easter table, or dress your home up with floral wreaths and decorations. Use the opportunity to update home furnishings and bedding with Spring bedding.
Be inspired by our selection, and have a wonderful Easter with your family.
Decorate the home
Decorating the home for Easter is one of the easiest ways to give your home an uplift for the holiday. Floral decorations can transform a room and look great well past the holiday period if you choose sustainable, faux plants and artificial flowers.
With so many places to decorate in the home it can be overwhelming, so here's some ideas to inspire you:
Front door
Add a floral wreath with springlike pastel colours to give your home Easter curbside appeal from the off.
Dining Table
A centre piece will elevate your table and can transform a meal to an experience. Think about your colour theme and choose tableware, plates, crockery, cutlery and table linens which enhance the theme. You can add candles, or florals and of course Easter Egss to the decor.
Garden
Continue the Easter experience outside and make the Easter egg hunt even more special with lights and outdoor decorations.
Guest rooms & cloakrooms
Continue the special Easter feeling in rooms which guests will use. Make a trip to the bathroom Easter special with decorations to keep them in the party spirit.
Gifts for kids
Skipping the sugar? Give them a gift that will egg-cite them for longer.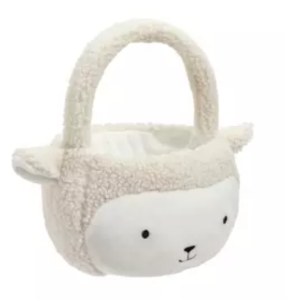 Argos Home Sheep Plush Character Basket
Gifts for the host
Don't turn up empty handed, check out our gifts to say thanks for the invite.