People staying over the holidays? Refresh your home with beautiful homewares for Easter
Easter is a time of joy and celebration, a time for us to remember what's important to us, and for spending time with those who mean the most to us. With spring comes brighter and slightly warmer weather. So it's the perfect opportunity to have extra guests.
Ensure the comfort of your guests by updating guest rooms, or adding much appreciated comfortable sleeping arrangements.
To help you ensure the comfort of your guests, we have put together a selection of home updates for the perfect host.
Folding beds come in handy when you want to accommodate extra guests. Folding beds are available in two options: single folding bed or small double folding bed. Choose the appropriate bed for the use, and for the space needed both when in use or when stored.
Single folding beds are a great space saving option to accommodate the occasional extra guest. It can usually be squeezed into the smallest space, and can be folded and easily stored away when no longer in use.
Small Double Folding Beds
Small double beds are perfect for accommodating extra guests, they can be used for one or two guests, so are a useful space saving addition. Make sure to check the dimensions so you have enough space for the bed to be used, and check the dimensions for the folded bed.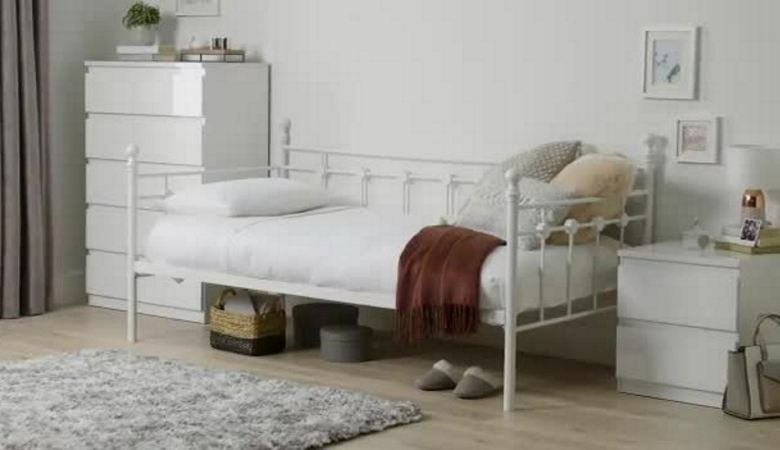 For relaxing days and restful nights, day beds will maximise available floor space. Day beds provide a place to seat during the day, and sleep during the night. Some beds include a Trundle which adds extra sleeping space for an even more comfortable place to stay overnight.
The ultimate space saver for guests, air beds are inflated when needed, and stored away when not. Taking up a small amount of storage space, they can easily fit inside storage ottoman beds, and inside cupboards. Save time inflating with an electric inflating bed, deflates fast using electric too. No more foot pump activity needed, unless you want the extra exercise!
If you are lucky enough to have a small garden, having a place for eating and entertaining is probably top of your priority. But it can be tricky to find smaller scale, or space saving furniture to maximise your space. Choose folding or stowaway tables and chairs, cube outdoor furniture. Use your corners well with corner seating.
Latest offers
Easter Gifts
Ends 19 April 2022
Shop Now > Argos
Save up to a 1/3 on selected baby & toddler products
Ends 10 April 2022
Shop Now > Argos
Save up to 1/3 on selected Furniture
Ends April 2022
Shop Now > Argos
Easter Floorcare Offers
Ends 19 April 2022
Shop Now > Argos
Save up to 1/3 on selected Homewares
Ends 19 April 2022
Shop Now > Argos
This post contains references to products from one or more of our advertisers. We may receive compensation when you click on links to those products.