Create the Ideal Workspace With Rugs From The Rug Seller
Take your home office from functional to fabulous this year with easy interior updates from The Rug Seller.
Rugs are an ideal way to create a home working 'zone'
A stylish and inspirational office doesn't have to have its own room. Zoning an existing living space, to carve out a dedicated work environment, is an easy way to update the space for home working. This can be achieved with clever styling – such as a rug, shelves and plants – to create a space that is designated especially for work but blends with your existing interior. Geometric patterns continue to be a big trend for 2021 and they offer a design-led, flexible floor covering that will suit many interiors and creates a clear eye catching work zone.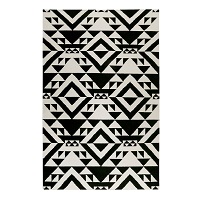 Consistent contrasts: with its extravagant graphic pattern, Black Mellow rugs from the new rug collection by the Accessorize brand lends an attractive air wherever it is placed. The rigid graphic look is emphasised by strong contrasts between black and white. Black Mellow rugs are handwoven from a 100% pure wool yarn in India. Pile height: 5 mm; weight: 1,420 g per square metre. Certified according to Goodweave. A slip-resistant underlay is recommended.
Price from £125.00
Shop Now > The Rug Seller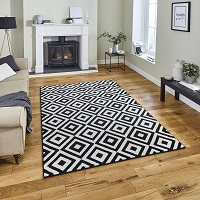 Matrix Rugs MT 89 in Black White
Matrix rugs MT 89 in Black White features a modern geometric design which is a firm favourite in many homes. Power loomed with a 100% polypropylene pile which is perfect for the busy house hold as it benefits from being durable, anti shed and easy to clean. Pile height of 1cm.
Price £39.99
Shop Now > The Rug Seller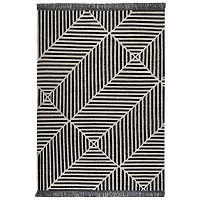 Irregular Fields Rugs 0008 01 by Carpets & Co in Black and White
Irregular Fields rugs 0008 01 by Carpets & Co features a striking geometric design in black and white colour tones, which will complete your stylish interior. Handwoven in India by expert artisans with a combination of 50% hemp and 50% pure wool yarn which benefits from being soft to touch and durable. Carefully finished with tassels to complete the hand crafted ethnic look. Pile height of 5mm and weight of 3kg per square metre. Certified by Good Weave.
Price £199.00
Shop Now > The Rug Seller
Create a calming colour scheme for concentration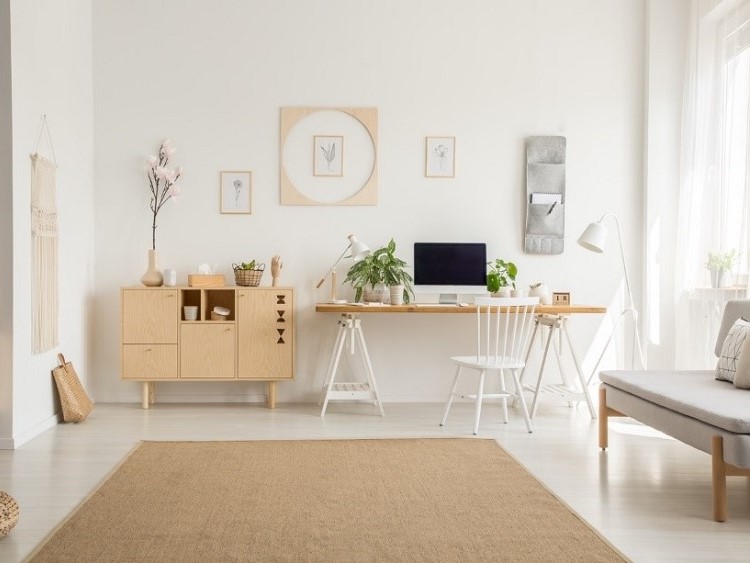 Paired back colour-schemes, whites, neutrals and natural materials are set to dominate in 2021 and if you are looking for a home office overhaul then this could be the ideal way to create a beautiful, yet versatile space that is calm and serene. The key here is the simple colour palate that is centred around a natural fibre (jute) rug and wooden furniture, teamed with plants and botanical-inspired art that help to add a sense of zen to a work haven. Natural fibres are extremely popular and these hard wearing rugs are ideal for creating texture and bringing an eco-design theme to life. The lack of pile will also work well with an office chair on castors.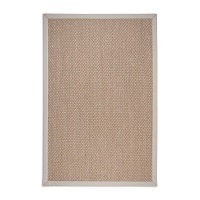 Bengal Raj Sisal Natural Fibre Rugs in Sandstone Beige
Bengal Rugs in Raj are handmade in the UK with a sisal pile and a stylish sandstone coloured cotton border. This eco-friendly collection is a popular choice for kitchens, conservatories and dining areas and features an anti slip latex backing to help hold the rug in place on smooth floor surfaces.
Price £164.99
Shop Now > The Rug Seller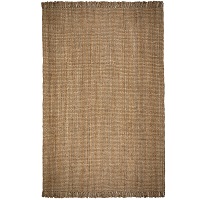 Sarita Jute Boucle Fringe Rugs in Natural
Bring a touch of nature to your home, with the Sarita Jute Boucle Rugs offering style and sustainability. Made from 100% Jute, this design benefits from being reversible, ideal for extending the life of your rug, and when you're ready for an update it is also fully recyclable. The ideal option for high-traffic areas jute rugs are perfect for any kitchen or living room where you want to create a beachy vibe.
Price £74.00
Shop Now > The Rug Seller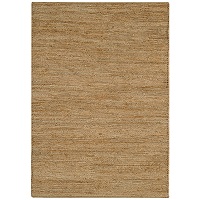 Jute Soumak Natural Woven Modern Rugs in Natural
Soumak Rugs in Natural make a stylish and economically friendly option for a practical flooring solution in your home. Hand knotted in India with 100% Jute which is a shiney, vegetable fibre and is spun to create course, strong threads for this durable rug. Soumak is an incredibly versatile rug, it will look stunning in any kitchen, living room or hallway. This natural rug is available in a range of sizes from small to extra large, flood any area of your home with texture and tone.
Price £199.00
Shop Now > The Rug Seller
It doesn't need to be big to be beautiful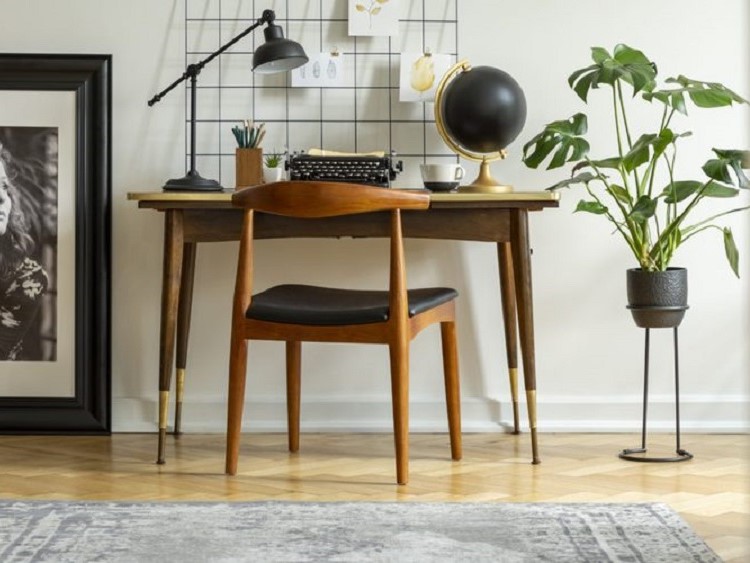 A workspace doesn't have to be big to do the job. Many people will have come from an office with a vast identikit desk space but how about aiming for a paper-free environment with no clutter? Some thoughtful accessories like a rug, a desk lamp and a plant will help to give the area more personality, and use vertical wall space by adding a noticeboard if you need it. Marble and granite inspired rugs looks great set against a wooden floor, complemented with black accessories which draw out the depth of the pattern. Marble inspired designs add a subtle texture and depth to any design scheme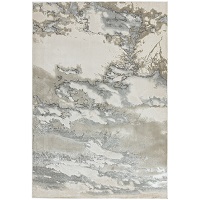 Aurora Rugs AU02 in Cloud Grey Beige – Modern Abstract Design
Aurora rugs AU02 offer a lustrous pile with an etched cloud effect pattern in silver and beige tones that work wonderfully with any interior for opulent style. The contemporary styling of the Aurora rugs look sensational as a centrepiece in the living room as well as the bedroom. Power loomed with a 65% polyester and 35% polypropylene yarn which benefits from being super soft, easy to clean, anti shed and very hard wearing.
Price £64.99
Shop Now > The Rug Seller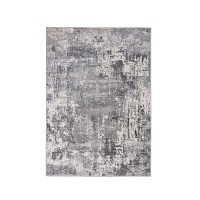 Cocktail Wonderlust Modern Abstract Rugs in Grey
These abstract designs in Grey are an on-trend go-to for many modern homes. The contemporary colourways make these modern rugs stand out, letting them be a centre piece for your space. The short polypropylene pile ensures that these designs will stay looking fresh, making them perfect for high traffic areas such as the living room.
Price £34.00
Shop Now > The Rug Seller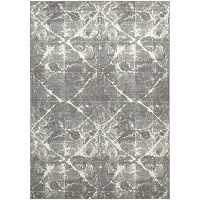 Gradient Rugs GDT01 in Granite by Calvin Klein
Gradient rugs GDT01 by Calvin Klein is the epitome of luxury and style with the lustrous pile and subtle pattern of loosely etched diamonds in granite grey and silver colour tones. Gradient rugs CK36 are power loomed with a combination of 40% wool and 60% luxcelle yarn to create a silky soft pile which is dense and durable.
Price £999.00
Shop Now > The Rug Seller
Don't sleep on the job – creating a work space in the bedroom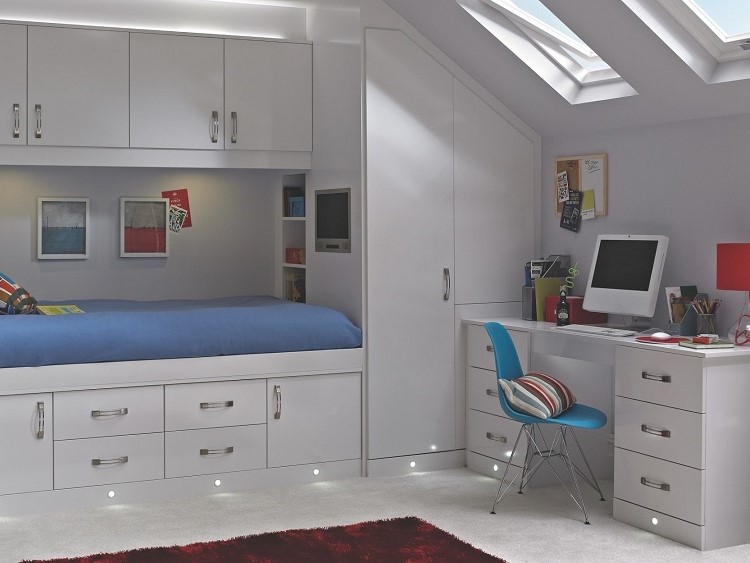 Built in furniture is a great way of maximising every inch of space and creating a room that is bespoke to your working and sleeping needs. Soften the space with a textured rug in a bright colour palette. Go bold with reds, oranges, purples or a rainbow design and embrace the feel-good factor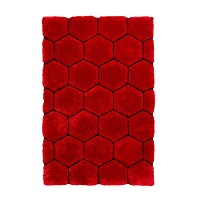 Noble House Honeycomb Geometric Rugs NH30782 in Red and Black
Noble House NH30782 rugs are handmade in China with a deep 100% Acrylic pile. The luxurious red pile is hand carved to enhance the stylish black hexagon design that will be a focal point to any room in your home.
Price £139.99
Shop Now > The Rug Seller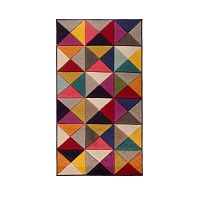 Spectrum Samba Geometric Multicoloured Rugs
Spectrum Samba Rugs feature a vibrant multicoloured triangular design which is handcarved to enhance the fabulous effect and create a stunning focal point. Power loomed with 100% Heatset polypropylene pile that offer high levels of durability and comfort.
Price £39.00
Shop Now > The Rug Seller
Sloan Rugs in Orange are handmade with a stylish geometric design and a fashionable two tone colourway. This flatweave collection is a popular choice around the home and the 45% Wool / 55% Cotton fibre contents makes it suitable for high traffic applications.
Price from £76.00
Shop Now > The Rug Seller
Inspirational workspaces for teen and older children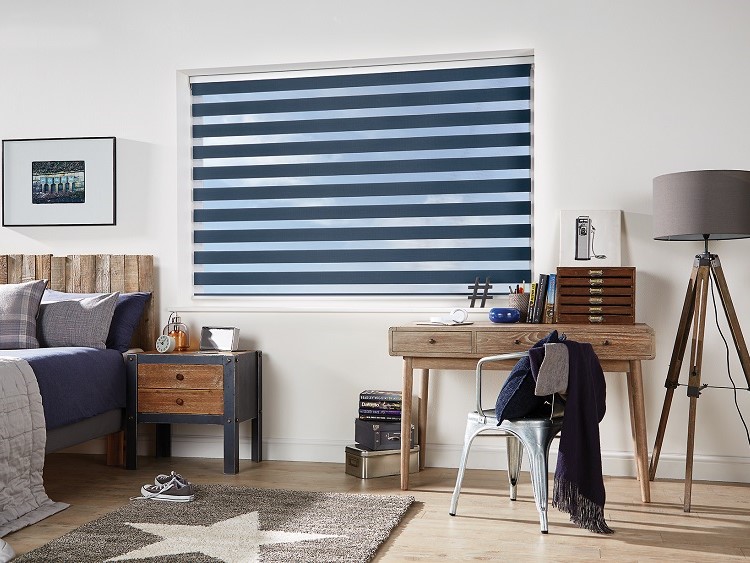 With home schooling now the norm for the foreseeable it is also worth considering how you can update your teen's room to give them a bit of extra study inspiration. A rug, window blind and new bedding can provide an instant uplift to your teen's bedroom without the hassle of re-decoration. A rug is ideal for covering up and revitalising a tired carpet or giving a design-led focus to the room. Choose a vibrant pattern or colour with a grown up feel to add a fresh style statement to the floor. A contrasting blind like this Twilight blind from Apollo Blinds will also tie the look together.
This post contains references to products from one or more of our advertisers. We may receive compensation when you click on links to those products.