Using light reflective furniture to create more light in a room
Filling a room with light reflective furniture is a great way to enhance a small space. Light can be introduced not just by use of colour: choose light/neutral colour schemes over bright, dark or patterned.  But buying mirrored, glass, gloss or chrome furniture is a great way to add light to a room.
Mirrored furniture
You may feel that mirrored furniture smacks of footballers wives or it's maybe 'too Essex', but mirrored furniture can be stylish, as well as over the top. There will be mirrored furniture to suit all interiors from ultra-modern to more traditional styles. Choose from sleek metropolitan styles to girlie retro mirrored furniture pieces.  Using mirrored furniture bounces light around the room and makes large furniture pieces appear smaller, a real Tardis effect.  Not many furniture solutions provide concealed storage and increases the light in a room.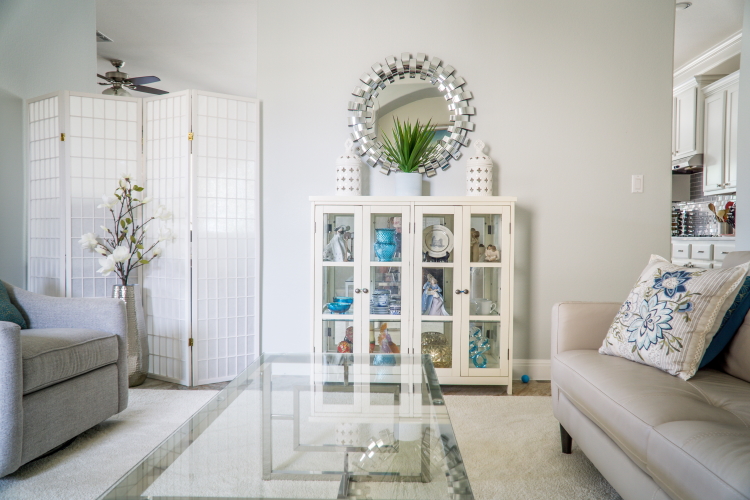 Glass furniture
Glass furniture is a big trend. With spaces continuing to reduce in size, what better way to use the space, but to have virtually invisible furniture.  Whether you are looking for glass console tables, glass coffee table, glass dining table, glass side tables or even a glass desk, there are hundreds of products available at different price points. Glass increases the light in your room by effectively hiding your furniture in plain sight.  Not for the faint hearted or mess inclined individuals. The unforgiving nature of the transparency of glass means that your stored items are actually on display. But this can be overcome by buying cute boxes and containers to hold you precious items out of view, be careful not to undo the benefit of the transparent glass by overdoing it, but living in a glass filled home can be a great excuse to declutter and organise your space.
Chrome furniture
Chrome and other reflective furniture has always been a fashion trend for each generation. Chrome is often paired with glass to enhance the light appeal.  Light literally bounces off every surface when you have light and chrome furniture in your home. From Chrome console tables to  Chrome side tables, Chrome coffee tables or Chrome dining tables there is a chrome furniture solution for everyone.
Gloss furniture
Modern interiors come in all sorts of finishes these days, gloss finishes bounce light around but also give you a more definitive colour scheme. Gloss furniture allows you to be braver with your colour scheme without sucking the light out of the room. Whether you choose a yellow gloss sideboard, or a grey gloss storage unit. Gloss furniture can be the answer if you don't want to chase finger prints and glass marks on your mirrored, glass or chrome furniture.  Not quite as invisible as some of the other options, but your items will remain hidden behind the solid gloss cupboard space or drawers. So you can enjoy enhanced storage with light enhancing gloss furniture.
This post contains references to products from one or more of our advertisers. We may receive compensation when you click on links to those products.