How to set up your home office on a budget
Working from home can be stressful and uncomfortable when you don't have the perfect spot to place your laptop or a great chair to relax your back. With most of the world now working from home, we have seen increased demand for home office furniture.
Depending on what you will be doing from home, all you may need is a surface to work on – I guess the kids, your partner of flatmates may have bagged the dining table – so you may just be looking for a work surface to call your own! If you are planning on having lots of conference calls, virtual meetings, video blogging or whether you are a journalist / presenter working from home your work space may need to look a bit more put together, but not cost the earth – this is only temporary after all!
Not everyone has the ability to create a perfect home office due to lack of space or available budget. To help you identify practical and affordable options take a look at home office products which can fit in the smallest spaces and are low cost!
Finding an affordable space saving desk is number one on lots of people's wish lists. Luckily there are several options. Small or space saving desks come in a variety of styles. You can find Folding desks, corner desks, small laptop desks for under £50.
Folding desks or tables come in handy for a number of reasons. You can use if when you want it, fold it away when you don't! They are multi-functional and can provide a useful surface to eat, play games or work.  Here are some of the best folding desks under £50.
Laptop desks are mimimal in size, so can be used in the smallest places.  Here are some of the best space saving laptop desks under £50.
Maybe you have decided you have space to fit a small desk which you can use in a fixed space. Small desks come in a variety of styles some come with added storage or shelves. Look at the maximum size you can accommodate, think about the most suitable material – think about whether the room is dark, adding light reflective surface might add more light to the room, or choose an almost invisible small desk to allow maximum light in the room. Here are some of the best small desks under £50.
A comfortable seat is a necessity not a luxury if you are working from home. Find a seat with adequate back support at a low price can seem like an impossible task. The type of chair you need will depend on how long you will be sitting each day, your height and your weight will also be a factor to consider. This may be one purchase which you may want to spend a bit more on. But if you are on a strict budget here are some options.
You want to get the most out of your home office so it's best to make it as bright as possible so you can work comfortably in your home office at any time of the day. Chose lighting options that are moveable, durable and are available for less £50.
Home office lighting under £50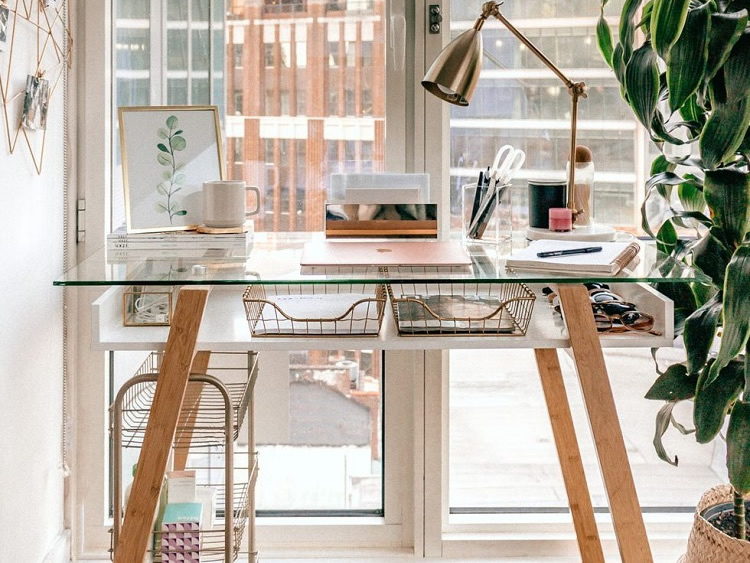 You want to get home office accessories with storage option that keeps your desk well-organised and enhances your desk. Select from a range of home office accessories available for less than £50!
Home office accessories under £50
Storage is vital when you are setting up your home office so you can hideaway paperwork you want out of sight. Look out for storage desks, shelving units, and smaller storage solutions like storage boxes and magazine racks. Select from home office storage available for less than £50
Home office storage under £50
This post contains references to products from one or more of our advertisers. We may receive compensation when you click on links to those products.