Home office ideas that breed productivity
If there's one area of the home where it's important to feel inspired and completely comfortable at this point, it's your home office. Working from home at this point can be distracting considering everyone is at home, so it's paramount to make sure your home office space is comfortable and well organized so as to keep you focused and productive.
The design of our home office has a powerful way of influencing our mindset and giving us the motivation to keep working. As a result, we have to keep it well-styled and thoughtfully organized in such a way that it stimulates productivity.
Below are simple home office ideas you can try out to create a workspace that makes working from home seem like an inviting prospect.
Get a desk that makes a statement
For an attractive and successful home workspace, the desk, storage and lighting are key. This is because they shape your home office both in terms of visuals and productivity. A strong desk makes a statement and, as the heart of the room, it often informs the style and environment. So look for desks that immediately signal fine quality by looking for designs with a powerful silhouette, beautiful inlay, lined drawers and exquisite hardware.
Once you've found the perfect desk, choosing the best location for it is essential. Having a view, whether it's looking onto the rest of your office or outdoor space, is recommended for a happy, healthy working environment.
Think about placing your desk near a window to access as much natural light as possible or in the centre of the room so you can admire your office interior design.
Select the perfect chair
Since you will be spending most of your time in your home office, it only makes sense that you select a chair that is comfortable. The perfect home office chair is supportive, increases productivity and maximizes the efficiency of the person sitting in it. A bad office chair, on the other hand, can lead to back strain and leg problems all of which cause lost time at work and keeps productivity low.
So it's advicable to pick a chair that promotes back health and keeps you productive by getting one with adjustable lumbar support, proper wheels, armrests, a deep seat depth, adjustable height and a reclining seatback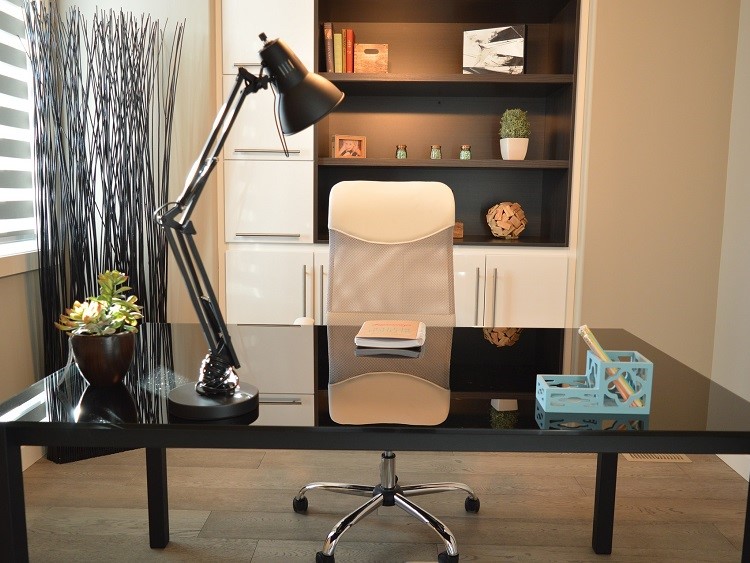 The brighter the better
The quality of lighting in your home office can help increase your productivity. Poor office lighting can reduce your energy, diminish morale, cause eye strain and headaches, and ultimately reduce your ability to work effectively.
If you can't get natural light in, then artificial lights are even more important when considering workspace illumination. With a variety of trendy modern lamp designs around, you can pick from an amazing array of table lamps that offer focused illumination and do so with a dimmer option as well.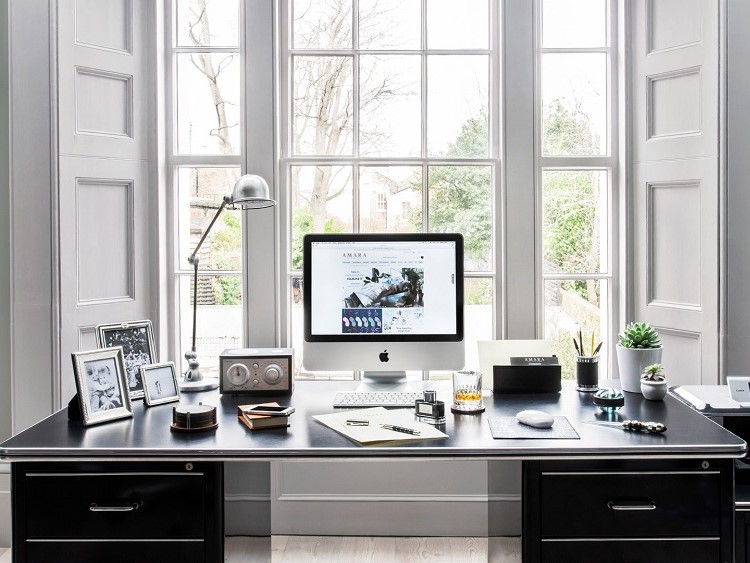 Get everything a home
Keeping things simple and uncluttered is essential; allocating a home to every object on your desk is one way to do this. A clean, organised desk display assists a clear, focused mind, so Invest in home office accessories with storage potential, such as pen holders, document tray, table organiser, to ensure your stationery and other work tools are presented beautifully and readily at hand.
A well-organised desk with a specific place for each object means you can locate and grab what you need with ease and speed, helping you to work quickly and avoid wasting time looking for misplaced items.
Storage is vital
Storage is a vital part of a dynamic home office. Desks with deep drawers and filing compartments enable you to hideaway clutter and paperwork you would rather keep out of site whilst sufficient shelving allows you to display objects that call to be showcased.
Smaller storage solutions, such as paper trays, memory boxes, magazine racks and desk tidies, are ideal for maintaining a slick, tidy appearance at the tabletop level.
Tips To be Productive in Your Home Office
Set Your Office Up for Productivity.
Keep distractions at bay.
Invest in Light Exercise Equipment.
Declutter Ruthlessly and Often
Take Eye Breaks.
Work with Purpose.
This post contains references to products from one or more of our advertisers. We may receive compensation when you click on links to those products.