Spring is just round the corner, with the summer close behind. Now's the best time to get your outdoor space ready for outdoor living and entertaining.
Longer days and clocks springing forward, means it's time to take a look at your outdoor space and update it in preparation for leisurely hours outside, alone or with friends and family.
Whether your outdoor space is a city balcony, a small city garden or a small country garden, you can make your small space look better, and ready for outdoor living and entertaining.
The outside space is an extension of your living area, so extend your personal style to to your outside space. There are simple ways to enhance your space, by adding pots and plants, adding outdoor upholstery, or creating a special reading space or nook. Treat this space like any other space in your home and think about the colour scheme, the accessories, as well as how you intend to use the space.
To help you get your outdoor space ready, we have pulled together some outdoor space ideas from Argos.
Add pots and planters
Make your space more beautiful by adding pots and planters. You can be quite theatrical with with your choice of pots, or your choice of plants. Go green or add beautiful floral or scented plants. Pots and planters come in a variety of styles including rustic country, or industrial contemporary styles. Think about symmetry, creating shade, adding privacy or just having the perfect backdrop with the location, choice and size of plants.
Light up your outside space
When night falls, add outdoor lights to provide an ambiance. Add lights to pots, rails, and flower beds to accent your planting and add elegant lighting to uplift your mood, and enhance your space. Keep the darkness at bay with low maintenance, simple to install solar lights.
View more Solar Lights > Argos
Create a reading spot
Perfect for reading, dozing or watching the world go by (if installed on a balcony). A bench or cosy seating area is the perfect addition to a small outside space. Add planting around to soften the area, make sure to have enough space to add a side table or surfaces to perch your refreshments.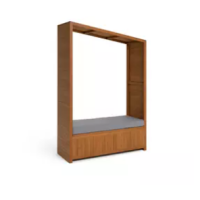 Habitat Samoa Garden Bench with Slope Roof – Light Wood
View more Garden Seating > Argos
Update your table
Take a good look at the furniture in your outside space. Is it tired? Has it seen better days? Is it past a quick paint job? Is it even right for your space? This summer is designated a summer of freedom, after the lockdowns and restrictions over the recent summers. So celebrate your new found freedom in an environment that you love.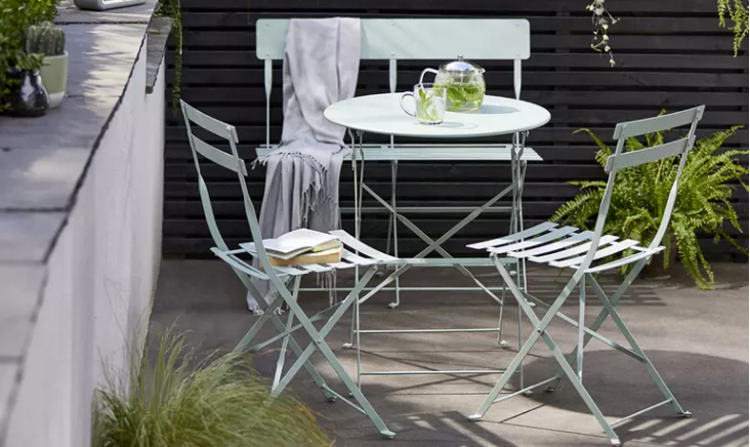 View more Garden Furniture > Argos
Extend your living space
Outdoor spaces can be an extension of your interior design. Add cushions and rugs to make your patio or decking more cosy. Make your outside a perfect place to entertain guests.
View more Garden Cushions > Argos
Use your corners
Using corner furniture can maximise your outdoor space. A combination of rattan and outdoor fabric can give your outside space a contemporary update.
Tidy up even tiny spaces
A small city balcony can also benefit from an update.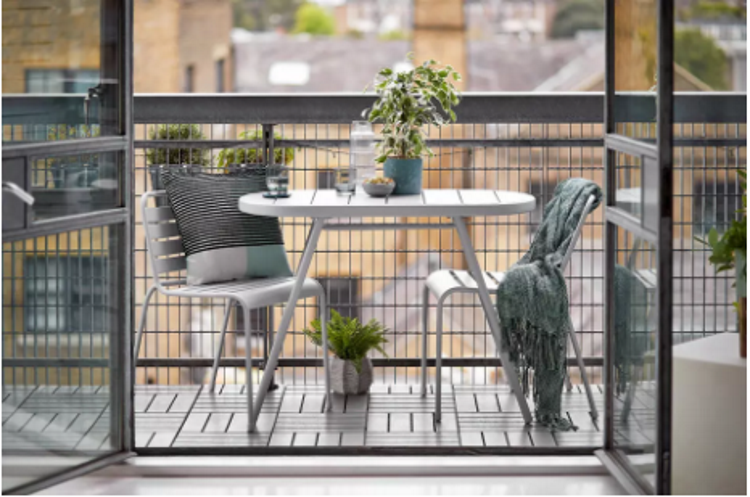 Need more inspiration?
View more Outdoor Ideas > Argos
Latest offers
Easter Gifts
Ends 19 April 2022
Shop Now > Argos
Save up to a 1/3 on selected baby & toddler products
Ends 10 April 2022
Shop Now > Argos
Save 10% on selected Hotpoint and Indesit Freestanding Cookers 
Code: COOK10
Ends 29 March 2022
Shop Now > Argos
Great Deals on Fitness
Ends 18 December 2022
Shop Now > Argos
Getting the Garden Ready at Argos
Ends 5 April 2022
Shop Now > Argos
Save 20% on Garden Furniture and Spas
Code: GARDEN20
Ends 29 March 2022
Shop Now > Argos
Save 10% on selected LG TVs
Ends 29 March 2022
Shop Now > Argos
Save up to 1/3 on selected Furniture
Ends 5 April 2022
Shop Now > Argos
This post contains references to products from one or more of our advertisers. We may receive compensation when you click on links to those products.