This post contains references to products from one or more of our advertisers. We may receive compensation when you click on links to those products.
20% Off Sitewide On Noa and Nani
This is the perfect opportunity to purchase some brand new decor for your children or to purchase that one item you think would look great in your home. Noa and Nani have a wide variety of product categories available, with free UK delivery available as well as the option to pay in instalments using Klarna.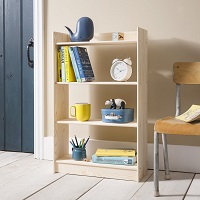 Haas Bookshelf 3 Shelf Bookcase in Natural Pine
Perfect for a young child's room, the Haas four-shelf bookcase is a versatile piece that will complement any space you find a home for it. Its simple design using pale, natural wood with subtle grain patterns, allows it to fit neatly into any style of home or room of the house – offering a stylish storage solution or the perfect spot to display treasured possessions or a collection of mementos. Let the four shelves become an organizer's dream and showcase a beautiful array of rainbow-colored books, precious keepsakes, and special toys.
Price >
Was £50.00
Now £25.00
Shop Now > Noa and Nani
LATEST OFFERS
Shop some of Noa and Nani's most popular products now with 20% off sitewide sale
Code: FLASH20
Shop Now > Noa and Nani