Wayfair Top Sellers For Last Week
The best way to buy furniture you are sure will serve the purpose you are getting it for is to opt for the best seller. After all, it made the top selling for a good reason.
We have rounded up some of the top selling Wayfair Products for you to choose from. These products comprise items for your bedroom, home office, living room, and lots more. Check them out on Wayfair.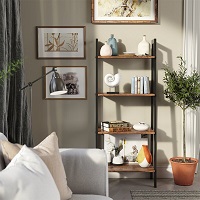 Amaryllis 137.5Cm H x 56Cm W Steel Ladder Bookcase
When you need more storage space and make full use of the space in your home, consider adding this 4-Tier Ladder Bookcase. It combines the charm of both contemporary and industrial furniture styles.
Price > £53.99
Shop Now > Wayfair
Robidoux Open Coil Mattress
With an open coil spring system with a damask cover, the mattress is filled layers of fibre to help create a great night's sleep.
Price > £49.99
Shop Now > Wayfair