Discover 10 brilliant buys from The Rug Seller
While the lockdown might be easing (a little), homeowners are continuing to find new ways to create a happy home environment with 'mood boosting' home interiors. From colours to design, there are lots of ways interiors can lift the spirits.
Undoubtedly, a rug is one of the easiest ways to make a big impact with minimal effort in a room. No sticky wallpaper paste or dripping paint brushes needed – take delivery of your rug through your front door and 'kapow', the mood of the room is lifted with a lovely large expanse of colour and style.
Here are 10 brilliant buys from The Rug Seller, each with that summer-inspired feel good factor!
For British consumers longing for a return to overseas shorelines, introduce the latest collection designed by Louis De Poortere. The Shores collection is modern and contemporary, a stunning interpretation of land meets the sea in five bold colours
Price £374.00
Shop Now > The Rug Seller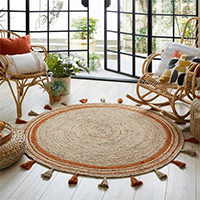 Lunara Jute Istanbul Round Circle Rug in Orange
Make a sustainable statement with the Lunara Jute Round Rug. Made from 100% Jute, this rug is not only a striking centrepiece for your home but an eco-friendly option too!
Price £100.00
Shop Now > The Rug Seller
This post contains references to products from one or more of our advertisers. We may receive compensation when you click on links to those products.