Shop Sophisticated Alfresco Dining From Rinkit
Ah, the garden, the little slice of paradise or the bane of your existence, seems to be one or the other. But what if we told you you could tame that unruly patch of ground? Or make that lovely garden even lovelier? Well, we wouldn't be lying, the Rinkit range of outdoor furniture is the perfect way to revolutionise your outdoor space. With deck chairs, sun loungers, garden tables and more, you are guaranteed to find something that suits your space!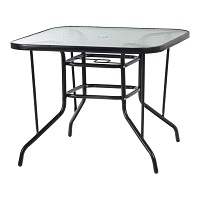 Harbour Housewares Metal Glass Top Garden Table – 90 x 90cm – Black
This Harbour Housewares Glass Top Garden Table lets you transform your garden, patio or balcony into your very own trendy inner-city coffee bar or bistro, with a sleek, contemporary design built for basking in style beneath the Great British Summer sun!
Price > £51.99
Shop Now > Rinkit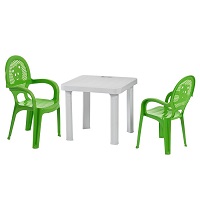 Resol Mini 2 Seater Children's Table & Chairs Set – Green
Bring a taste of the Costa Brava to your Children's play time this summer with the 'Mini' range of kids' armchairs from Spanish furniture specialists Resol.
Price > £31.99
Shop Now > Rinkit
Need more inspiration?
Shop Sophisticated Alfresco Dining > Rinkit
This post contains references to products from one or more of our advertisers. We may receive compensation when you click on links to those products.