Elegant Bloom Oriental Collection.
These elegant Bloom oriental style collection would make a lovely feature in any room. These arrangements come as an excellent alternative to growing and maintaining real plants, a beautiful way to bring life to your interiors.
Ideal for adding vertical interest wherever floor space is limited and creating a calming, peaceful ambiance.
Price £85.00
Shop Now > Bloom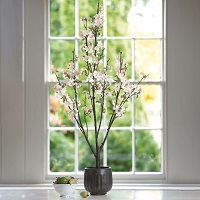 Japanese Plum Blossom Tree
Our dainty Japanese Plum Blossom Tree is perfectly captured in its mid-February colours, which mark the start of the magical 'ume', or plum blossom season.
Price £89.00
Shop Now > Bloom
Need more inspiration? Visit Bloom
This post contains references to products from one or more of our advertisers. We may receive compensation when you click on links to those products.