Home Acessories To Help You Refresh Your Home
Liberty Interiors Emporium showcases the best and brightest in modern home decoration, featuring a swathe of inspiring designers from all over the world. From hand-thrown ceramics to graphic printed blankets and mouth-blown glassware, each piece has been carefully crafted with a rich infusion of personality.
Discover bold, one-of-a-kind artworks and cutting-edge hero pieces to curate and transform your living space.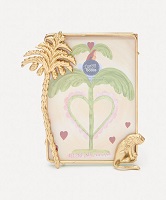 Heritage Lion Large Photo Frame
Memories will be treasured forever in Doing Good's Heritage Lion photo frame – crafted in India from recycled brass. Resting beneath the leafy shade of a palm tree, the Heritage Lion is a motif that evokes adventure and escape – the perfect spot to display your favourite photos from far-flung places. It is crafted by artisans from a workshop in India, embodying the Netherlands-based brand's passion for global treasure-hunting. Cluster it with a mismatched collection from an eclectic look, or stand it alone for subtle solo impact.
Price: £24.50
Shop Now > Liberty London
This post contains references to products from one or more of our advertisers. We may receive compensation when you click on links to those products.