Glass Containers For Your Space
LSA International has a range of mouth-blown glass storage containers perfect for organising and displaying throughout your home. There's a choice of glass, natural wood or cork lids to fit the decor within your home. Shop the collection at LSA International and don't forget you can get free delivery on orders over £15.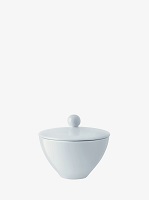 Dine Sugar Bowl & Lid H9.5cm
A small sugar bowl with steep conical walls and a flat lid with a spherical handle.
Price £14.00
Shop Now > LSA International
Void Oil/Vinegar Bottle & Cork Stopper 120ml
A mouth-blown glass oil/vinegar bottle with a central hole and cork stopper.
Price £30.00
Shop Now > LSA International
This post contains references to products from one or more of our advertisers. We may receive compensation when you click on links to those products.