Set The Right Mood With Lighting From MADE.COM
As the nights begin to get darker and with Winter just around the corner, having the right lighting for every room in your space is essential.
Illuminating your space the right way can make a big difference in the mood and ambience of your space. If your home does not get much natural light, the best way to light it up will be to opt for lighting options that you can control so you have light wherever you need it.
Finding the perfect lighting option for your home depends largely on the size and functionality of your space. So whether you need lighting for your bedroom, living room, bathroom or home office, MADE.COM brings you a wide range of lighting options to help you brighten your home.
The living room in most homes is the centre of activity. So making sure that your living room is well lit for all the activities that take place in it is very essential.
Your living room should have lighting options that illuminate all four corners to give it a balanced and pleasant aesthetic. So it can have a mix of space saving options such as ceiling lighting, table lamps, wall lights and floor standing lights.
The bedroom is the most personal and intimate room in the home. It's where you retire to after a long work day, so it needs to be set up in a way that encourages you to sleep.
Bedroom lighting has to be both functional, stylish and one that helps you make the most of your space. For proper illumination in the bedroom, incorporate a mixture of different types of wall scones, stylish ceiling lights and some table lamps.
Kitchen and Dining Lighting
The kitchen is the heart of the home, it is where we make our meals so it has to be well lit up.
Your kitchen lighting often requires approaches such as task lights to help you see around your hob, under lighting to highlight dark spots and statement lighting to express your style.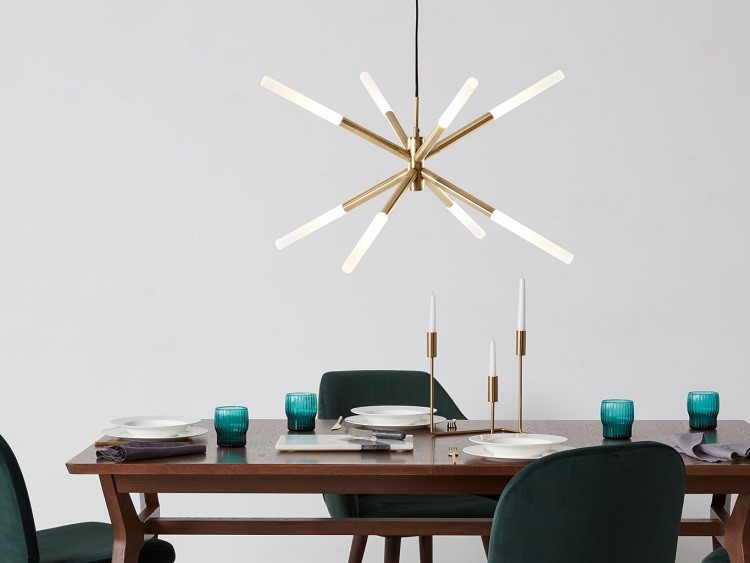 Your home office lighting can help increase your mood and productivity. So when choosing lighting options for your workspace, it's essential to opt for those that illuminate your space properly.
A central ceiling light and a desk lamp that can be adjusted to any direction will work just fine for your home workspace.
Lighting is essential for your bathroom. It should be set up according to how you plan on using your bathroom.
Placing a wall scone just above your bathroom mirror will provide you with plenty of light when shaving, cleaning or applying makeup.
Adding light to your garden space is the perfect way to lighten it up and create the perfect ambience at night.
When it comes to lighting up your outdoor space, using a mixture of garden wall lamps, lanterns, fairy lights and solar lights will help you achieve the perfect illumination for your outdoor space.
Need more inspiration?
Shop more lighting > MADE.COM
This post contains references to products from one or more of our advertisers. We may receive compensation when you click on links to those products.