Spaces in home >
There are spaces in homes that pose some serious design challenges. Whether it's an awkward shaped ceiling, an alcove in the living room or even just a small room, some places just don't work with a standard shaped design. But with some careful consideration and a little thinking outside of the box, there are lots of ways we can overcome such spaces.By re-thinking traditional shapes, exploring new solutions, we're able to craft pieces that not only fit the brief but also look visually stunning on their own. We've explored six different ways that you can re-think your space
Old shaped ceiling
Some rooms, especially attics and extensions, are designed with an awkward shaped roof. While this is often a necessity for architectural purposes, it doesn't mean you have to sacrifice on space. In fact to maximise space in your room, utilise that awkward ceiling! This will save space throughout the rest of the room, open up the area and encourage light in. Take this unique bookcase we crafted for a home near our workshop in Winsley. Rather than designing a standard rectangle shaped bookcase, which would have blocked light if placed nearer the window, we utilised the awkward corner and designed a bookcase with a angled top. Rather than a hindrance, this ceiling has now become a feature piece of the room!
Awkward alcoves
Pretty much every house with a chimney and fireplace has an alcove. It's that awkward empty space that makes adding a function to it, rather difficult. But with a little thought that space can be transformed into something integral to the room. We've seen lots of pictures of people adding a freestanding dresser or bookcase into this space. It's a great idea and adds a bit of symmetry to the room. But don't clutter the space. Often a solid bookcase over powers the space and makes the corner look even darker. When we re-designed this apartment in Bath we opted for freestanding shelves! They added a modern touch to the area, didn't block out the light and kept the grey of the walls flowing throughout the room. When adding the shelves, we chose a wood that would suit the existing tones in the room. We also used same wood on top of the fireplace to tie the pieces together.
Integrated storage
If you're trying to re-design a small space, think how you can integrate storage. This massively saves on space and allows you to focus on the exterior design elements. In this small kitchen we crafted a hollow island with an integrated shelf and bin. Now the island had double the functionality! This idea can also been used in other pieces of furniture around the house. If you're considering a coffee table, opt for one with a shelving unit underneath, or perhaps with pull out drawers. Purchasing a new study desk? Opt for one with pull out drawers or a shelving unit which fits underneath.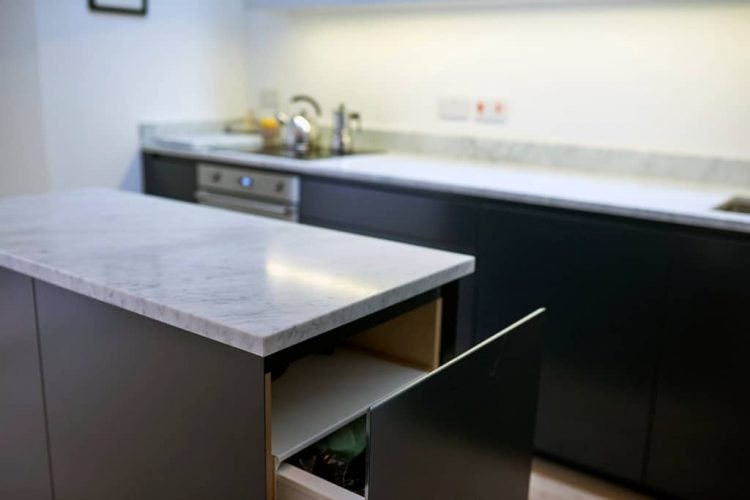 Go wall wide
If you've got a small space, it can be very difficult to find a place for furniture. But consider using your walls. Walls are often the most under used and undervalued space in a home. While covering walls can make some rooms look cluttered and busy, sometimes it works to great effect. Take this study we crafted for a young family in Bath. The study space was small and there was limited scope for any freestanding furniture. As such, we designed upwards! Crafting this desk and library unit in one go, we were able to create a piece of furniture that not only served a function but also created a wow factor. This small study, now became a book lover's paradise! We painted the piece white to keep the room as light as possible. This also worked to draw the attention to the books and their array of colours.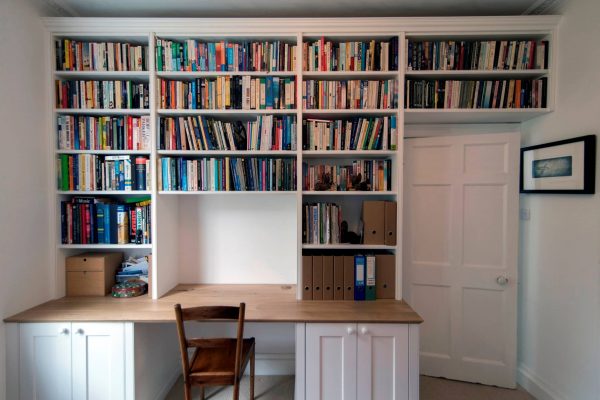 Go low
Thinking outside of the box can really turn up some very unusual and creative ideas! There is so much potential space in a home, we just need to reconsider how we think about it. Take this staircase we crafted for a farmhouse in the Wiltshire countryside. In order to make extra shoe space for the family, we crafted a series of bespoke rustic style drawers to fit underneath each step. A stair-storage-case!
Empty corners
Corners can be tricky places to fill. Sometimes mixing walls and pieces of furniture can result in such 'empty' spaces. These can look really odd, and distract from the visual appearance of the rest of the room. To get around this, think how an empty corner can be incorporated into a design. In this apartment in Bath we crafted a series of floating shelves. Three worked by bridging the gap across the alcove, while the bottom curved shelf blended the space between the adjacent walls.  It was a simple solution but one that produced great results. The couple then added some accessories to add light and colour into the space which really changed the whole atmosphere.
Awkward spaces don't have to be awkward. With a little thought, some inspiration and design tips, what once was a hindrance now becomes a beautiful quirk that adds character and style to your home. If you're looking for furniture to overcome an awkward space, then
get in touch
and discover how we can design something that works for you.
This post contains references to products from one or more of our advertisers. We may receive compensation when you click on links to those products.