Are you getting ready for the summer entertaining event of the Century?
Start your summer entertaining off with a bang by celebrating the coronation at home. It's a great excuse for a party with family and/or with friends. Get a group together to make a memorable experience for all. You'll probably be asked a hundred times how did you spend the Coronation, so make sure you have a good answer!
Whether you are celebrating inside your home, (if you don't have an outside space), or even if you do, but don't want to take chances with our seasonal (it-doesn't-help-with-planning) weather, Argos has you covered.
Kick off your summer entertaining in style and decorate your home in patriotic colours. Choose from a large range of coronation themed partyware, tableware and accessories suitable for inside or out. Who doesn't need more bunting in their lives!
Indoor Coronation Party at home
Deciding the time and style of your party is the first decision to make. Will you be having a traditional celebration lunch (like The Big Lunch), or will you be hosting a traditional afternoon tea? Or are you planning a gastronomic dinner affair? Or are you celebrating with a Coronation Cocktail party?
However, you plan to celebrate the coronation at home, Argos has lots on offer for you. Here are some tips to make your day go off in style.
Decorations
You can't have a patriotic party without decorations, and really bunting is the barest minimum! This is a time to go all out, or don't bother at all. The more kitsch the better, this time you can even invite special guests of honour for fun. Check out King Charles and Queen Camilla below!
Dining Table
Union jack themed tableware, or a combination of red, white and blue tableware (you can even choose ceramics if you want to reduce waste. If you are planning a summer of entertaining, it makes sense to invest in reusable crockery which will last you a lifetime. Failing that, there's always recycling so we can celebrate in fun, but with a clear conscience!
Cocktails
The spirit of the event (pun intended) is likely to include some cocktails so make sure you have enough different types of glasses to make the experience even more special.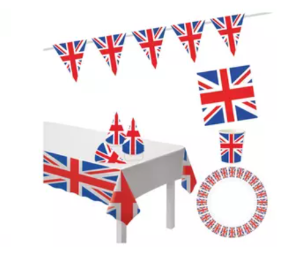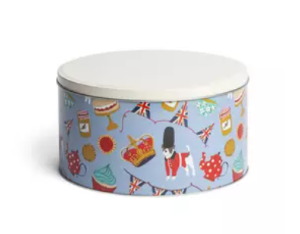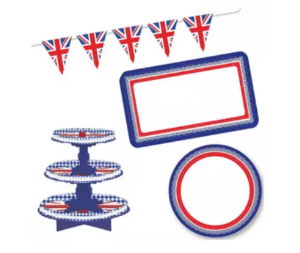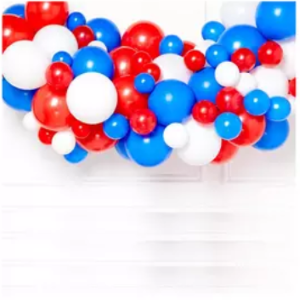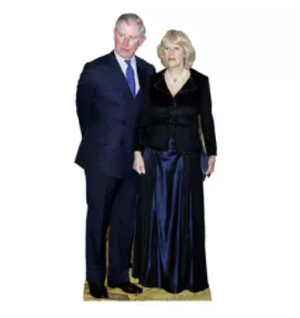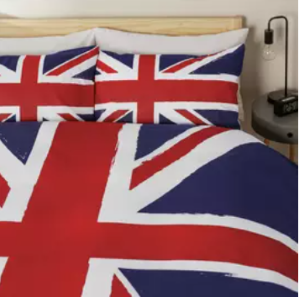 Celebrating the Coronation outside
First things first, decide what sort of celebration you will be having. Will you be going for a traditional afternoon tea? A BBQ? A picnic? Or drinks event in the garden? Hot tub party anyone?
Here are some tips to help your outdoor coronation party at home create the coronation sensation you are after.
Seating
Depending on whether you are trying to create a community feeling in the garden you might want to line up some trestle tables to recreate the Coronation Big Lunch. Or you might want to keep it informal with some garden seating in clusters, or have a super informal picnic celebration.
Get the BBQ going
What better on a probably windy, not too warm day to keep the party vibe going, celebrate the coronation at home with a BBQ.
Don't let the weather ruin your plans!
You can't take many chances with the weather at this time of year, every day can easily be a mixture of sunshine and rain. So prepare for both with a gazebo or some sort of outside shade.