Designing for a small space can be tricky >
There are lots of images on Pinterest and Houzz offering design inspiration, but we often seem to end up on the pictures of beautiful large spaces full of light and colour and are left wondering how we can possibly recreate that for a small space. This is especially true of a kitchen. Kitchens are no longer just functional spaces. Now a place for socialising, entertaining and even work and homework, the kitchen is officially the go-to hub of the home.
Given this, clients' often panic when they've only got a small space to play with. "How can we possibly fit this in?" "Or where can I put the pots and pans, and find a place for these appliances? " Sound familiar? But, with a couple of clever design tricks, a bit of extra thought and some clever storage solutions, a small kitchen can offer just as much as a large kitchen. Find out how:
The obvious constraint of a small kitchen is finding places to store things. When in doubt, look up! Walls are often the most un-utilised space in all rooms. But they provide the perfect space for over head cabinets and shelves to store cups, plates and appliances. But one thing to keep in mind in small kitchens is light. If you think over head cabinets will make your space look darker, then consider ways around it. In this small apartment kitchen we used door-less box cabinets. These looked ultra modern and created a feeling of openness. The light wood finish also worked well to draw and reflect light in the room.
In this modern kitchen we noticed a fantastic 'hidden' space above the kitchen sink. This space often goes unnoticed, as most people just consider this as the sink's space. But with these simple shelves we've not only added colour and depth to the area, but also added an extra two metres of space for storing pots, jars and small appliances.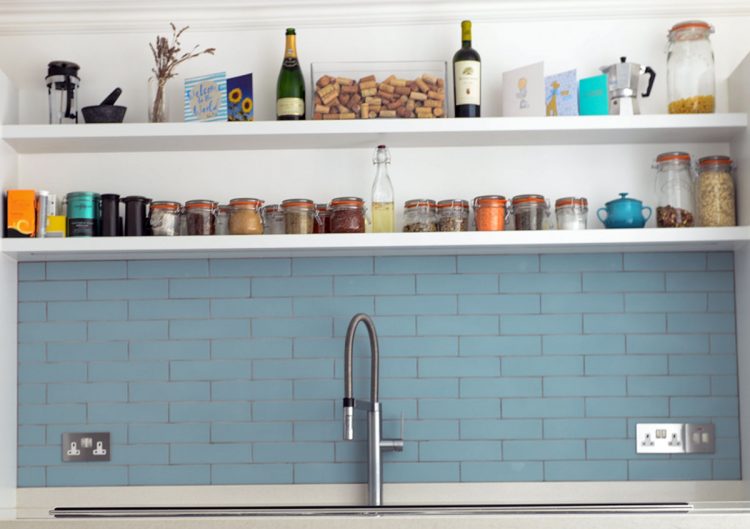 The best way to find storage space in a small kitchen is to discover 'hidden' spaces. This means using space you wouldn't usually consider and turning it into something useful. Take this bright blue kitchen we designed for a family in Wiltshire. While the space was open plan, the kitchen was confined to a small area behind the staircase wall. We added some neat shelves onto the end of the cabinet to turn it into a book case. Multi-functional! This worked well, not only because it gave us some extra storage space, but it also worked to tie the two rooms together and soften the entrance into the kitchen.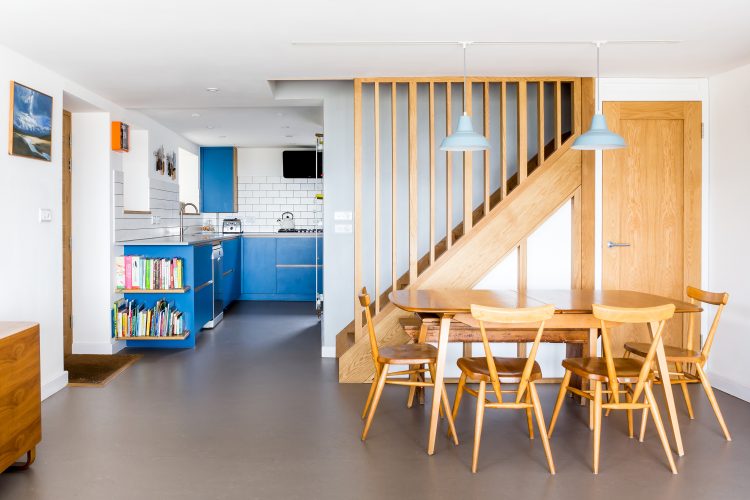 For this modern kitchen, we utilised some 'hidden space' in the cavities of the kitchen island. The island itself, housed an induction hob, but there was space at the back that was left unused. We added an inbuilt book shelf and several drawers—perfect for shallow pans, plates etc. The drawer itself also featured an interior drawer, which doubled up on the amount of storage space.
In this dark blue modern kitchen, we created for a couple in Lansdown, we added a pull out bin into the thin kitchen island. For extra storage, we also used the 'spare' area above the bin and added a shelf. This space could now be used to store spare bin bags, perhaps a small dust pan and brush or cleaning products.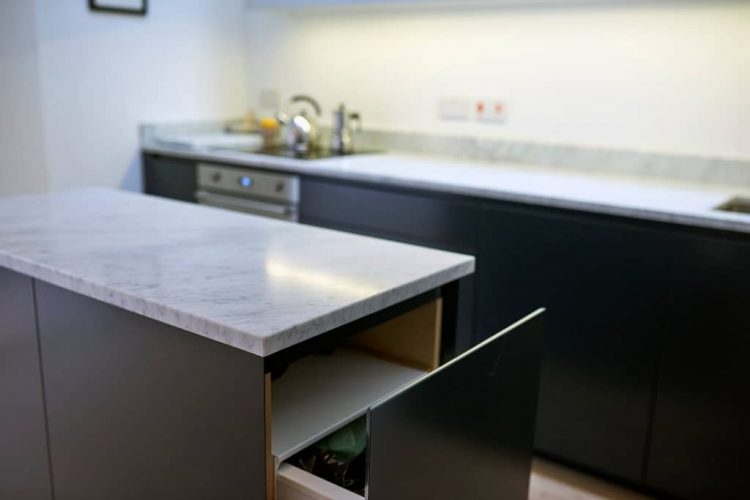 Another design trick for smaller kitchen is to "go vertical". Just like wall mounted cabinets, extra features can be added onto walls and the sides of cabinets, or dressers etc that saves space. Take this industrial style magnetic knife rack added into a kitchen designed by Mia Marquez, that we created, in Wiltshire. It not only cleared space on the counter-top but also added an element of design that is sure to impress.
Our clients in the bright blue kitchen adopted a similar idea. They added their magnetic knife rack above the white tiles on the wall. They also utilised the empty space in the window sill, by adding a small bread box. If you've an empty window sill, use it! Think about adding some herb plants—for colour—and add some clear glass vases to store ladles, large spoons etc. Clear glass works well here as it doesn't block out any of the light.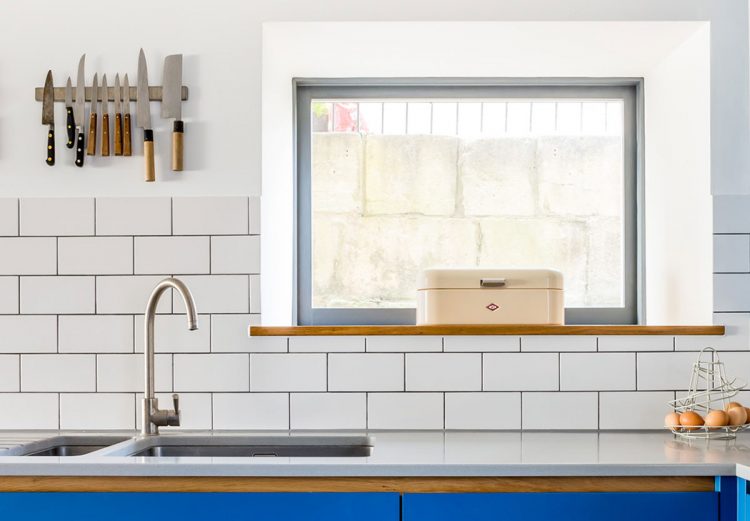 If you're looking to add a kitchen island, but are worried about space, think about going hollow. This rustic style island/table doubles up. It not only provides an extra surface to prepare food, but also offers space to store pots, pans and even ingredients. Because of its size, it can also be easily moved around. Perfect if you need to move it out of your way.
Baskets are a small kitchen's best friend. They provide great little spaces for kitchen nic-nacs, like cutlery, sponges, scissors, cleaning products etc. Due to their size, they can also usually fit in anywhere. Underneath your sink, in a 'hidden' space, on counters, and also above cabinets. They are easy to grab and transport, making them even more useful.
When you're designing for a small kitchen, you really need to look at the tiny details in order to maximise space. Get analytical and start thinking critically about space. Remember cabinets come in all shapes and sizes and while there may not be enough space for an extra set of drawers, I bet there's space for a vertical pull out drawer. This neatly sized vertical drawer is perfect to store tall bottles like oils, vinegar etc and also all your herbs and spices. De-clutter your work surface and make narrow spaces work for you.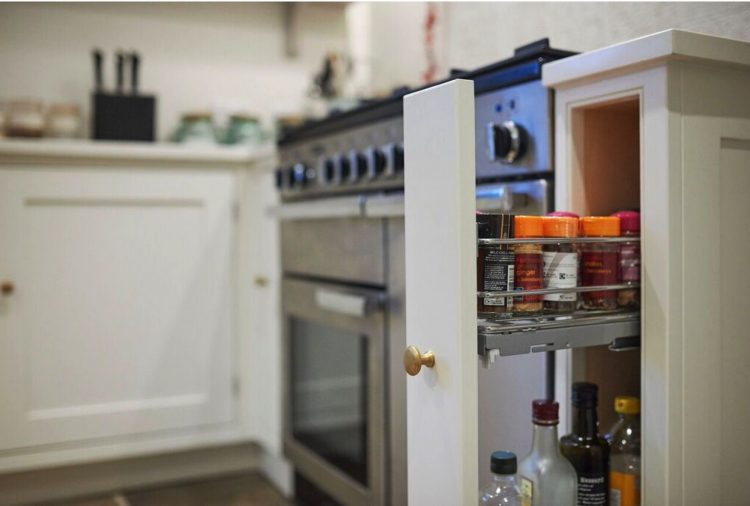 So as you can see, with a couple clever tricks and a re-think on space, a small kitchen can be just as functional and fashionable as a large one. And, very often, because of the constraints, cleverly designed small kitchens work harder to provide you with exactly what you want and require. Let us know if you've got any more design tricks that you've added to your kitchen, and if you've been inspired and are planning a kitchen re-design, then get in touch and find out how we can help.
This post contains references to products from one or more of our advertisers. We may receive compensation when you click on links to those products.