Bring The Outdoor Into Your Home
Stuck indoors? Don't miss out on the sights and smells of Spring. Bring Spring Flowers inside! Bloom yellow and orange flower arrangements will set your home up and give it the perfect Spring feel. You can also give them out as a gift to someone special. Take your pick here.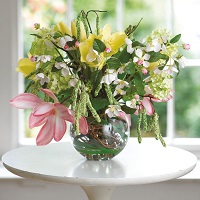 Magnificent Magnolia and Tulip Centrepiece in Glass Vase
Some flowers are so fleeting in the garden, but this joyous centrepiece will fill your home with delicate flowers year round. Clusters of catkins, pink magnolias and apple blossoms, golden tulips and frothy white balls of viburnum opulus vie for space and attention.
Price £149.00
Shop Now > Bloom
Need more inspiration? Visit Bloom
This post contains references to products from one or more of our advertisers. We may receive compensation when you click on links to those products.